If you have a busy classroom, you'll be pleased to know that our range of add ons for the micro:bit have quick and simple push-fitting headers.
Swap between them in seconds. Store your boards away easily. Grab some of our resources (linked on each product page) to use with them for an instant activity!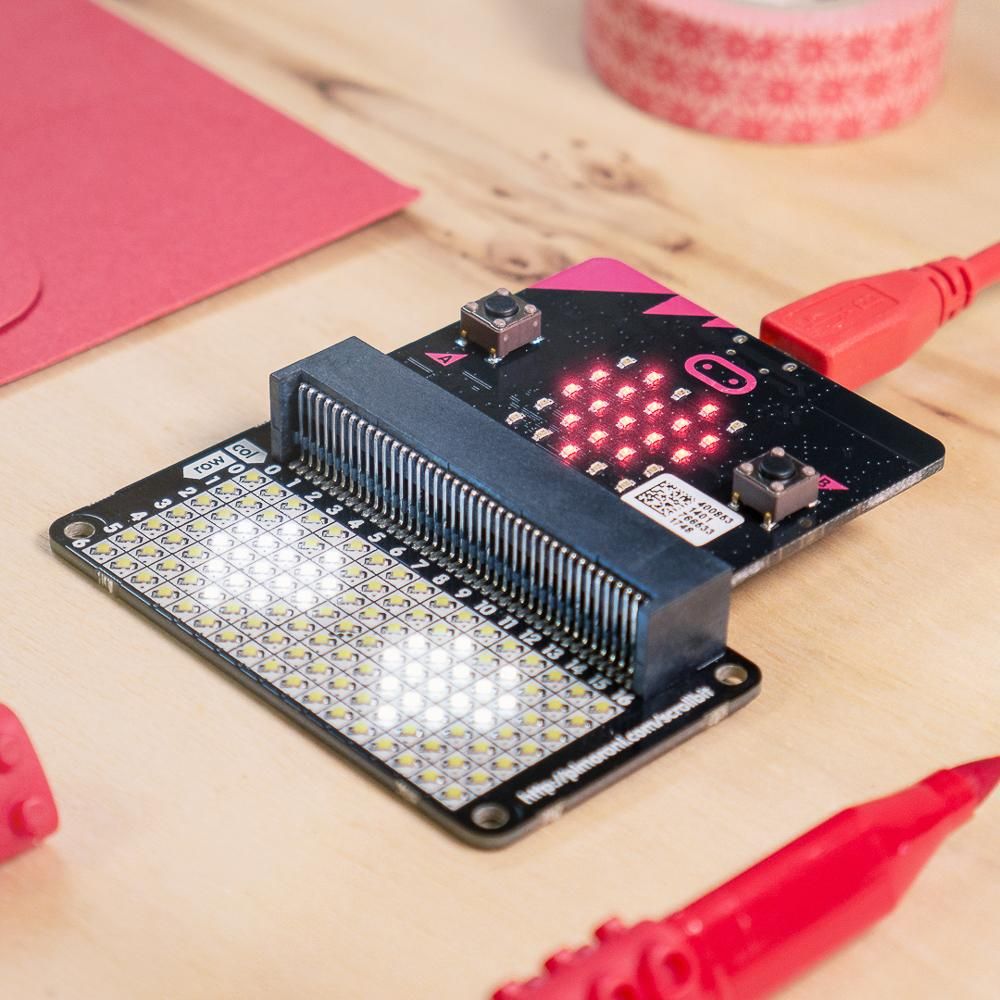 Advantages of these boards are that they're ready assembled - nothing to solder, nothing to bolt together, just get it out of the packaging and pop it onto your micro:bit!
All of them work straight away with MakeCode, and the ones that need it have a full pxt library (blocks) which you can find in the extensions menu and load in seconds.
The current range includes:
Scroll:bit - a little display with a lot of pixels! Its 119 bright white LEDs are perfect for scrolling messages with your micro:bit, or for animations, graphs, and more!
Enviro:bit - Sense the world around you with enviro:bit! It's loaded with sensors for air and weather, colour and light, and sound.
Noise:bit - Make your micro:bit sing with noise:bit! It's a tiny speaker that packs a fair bit of punch, and it's perfect for BLEEPS and BLOOPS!
Touch:bit - Six handy touch-sensitive buttons and LEDs for your micro:bit. Use touch:bit as a controller for games on micro:bit's LED matrix, or combine it with the radio functionality and use it as a controller for your robot.
Pin:bit - It's ideal for building small circuits on a breadboard, and for exploring what different types of components like LEDs, buttons, and analog sensors do and how they work. Our Explorer HAT Pro parts kit is an ideal set of components to use with pin:bit.
Automation:bit - Control and monitor your world with automation:bit! It's tolerant of up to 24V, with analog and digital inputs, outputs, and a relay, so it's ideal for automating low-voltage systems. Hook up buttons to the inputs, use the built-in buttons on micro:bit, or the light-sensing capability of the LED matrix to control devices connected to automation:bit. Or why not use a second micro:bit's radio function as a remote control?
If you're looking to do something more advanced, the same boards work with MicroPython, and we have a full library for the boards on our GitHub repository.